Reservations – Pool Pass Holders Only
Q1 Pool Hours & Layout
Lap Swim
Monday – Friday
  8 am to 1 pm – 5 lanes
 1 pm to 6 pm – 3 lanes
Saturday/Sunday
   9 am to 12 pm – 5 lanes
  12 pm to 5 pm – 3 lanes
Family/Rec Swim
Monday – Friday
8 am to 1 pm – Teaching Pool/Baby Pool/Section E
1 pm to 6 pm – Teaching Pool/Baby Pool/Sections B, D, E
Saturday/Sunday
9 am to 12 pm – Teaching Pool/Baby Pool/Section E
12 pm to 5 pm – Teaching Pool/Baby Pool/Sections B, D, E
Lap/Rec Swim Layout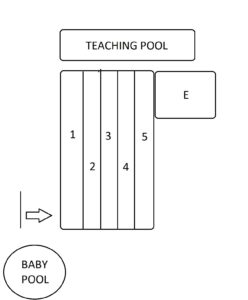 Lap/Rec Swim Combo Layout

Reservation Information 
IMPORTANT! WHEN MAKING A POOL RESERVATION, PLEASE ENTER YOUR LAST NAME INTO THE DESCRIPTION.
Reservations will be open to Current Pool Pass Holders Only.
Reservations will be posted online every Tuesday between  12:15 pm, for the following week, through the next Tuesday.
Until 11:59 pm on Tuesdays, pass holders may only make 2 reservations per account. SRD will cancel pass holder reservations if more than 2 are made on Tuesday. Extra reservations will be cancelled in the order they are made, without notification.
We understand accidents happen while making reservations. Please call the office as quickly as possible to cancel accidental reservations beyond the limit.
Pass holders may make additional reservations beginning on Wednesday, up to 24 hours in advance of the additional reservations.
Each household membership is allowed one account on the SRD system. Reservations may only be made by the primary passholder on the account.
Please do not come to the pool without a reservation, there are NO DROP INS for anyone at this time.
Reservations are limited to 1 per household, per day, no exceptions regardless of the 24-hour rule. Please be conservative when making reservations. We want to make sure all members can make a reservation.
To cancel reservations, please call the SRD office between 8:30 am – 5 pm, Monday – Friday. During off hours, please email; gm@strawberryrec.org or aquatics@strawberryrec.org.
Out of respect for all pass holders, please give SRD as much notice as possible when cancelling reservations.
Pass holders may only utilize their primary account to make pool reservations.
Odd # lanes will enter from shallow side. Even # lanes will enter from deep end.
When waiting for your reservation session to start, please wait outside the pool gate, at the markers placed 6 feet apart from one another
A guard will invite you in one at a time, take your temperature and ask you safety questions upon each visit
Bring your own towel and water bottle.
Changing on the deck is prohibited. Arrive and depart in appropriate swimsuit coverings.
Locker/Changing rooms are closed at this time
Each lane will have assigned places to put your belongings
Hot tub and splash pad closed
Please rinse off prior to entering the pool.
Showers are only available for 30 second rinse off, prior to entering the pool.
If two members of the same family plan to lap swim together, please share a lane and do not make two separate reservations.
Failure to follow SRD rules may result in the suspension of your pool pass. Repeated failure to follow SRD regulations may result in revocation of your pool pass.
General Rules
It is essential that you do not come to the pool if you are experiencing any symptoms (fever, cough, shortness of breath, etc.)
Do not arrive more than 10 minutes prior to your reservation. Please line up along the pathway leading up to the pool gate and wait to be checked in.
Members will be required to wear a mask when entering and exiting the facility and when not in the pool.
You will be asked a series of health questions upon arrival.
Practice Social Distancing of at least 6 feet.
Arrive in your swimsuit and leave in your swimsuit.
Bring your own towel and water bottle
No congregating in or around the pool.
Reservations are for members of the same family. Families may not share space and intermingle while in the pool or on the pool deck (this includes social bubbles).
All members must shower before entering the pool.
No intentional splashing or spitting
No hanging on lane lines
No changing on the deck or in the Aquatics Facility
Changing stalls will be CLOSED. Bathrooms will be available for restroom use only.
Please refrain from touching gates, fences, chairs if possible.
No extracurricular activities or social activities to take place before, during or after pool reservation. (No tanning)
No Guests
No Drop-Ins (Pool pass holders only)
Use of tables prohibited
No food or alcohol
Please bring your own water bottle to fill
Only people with reservations during a specific session will be allowed to enter the Aquatics Facility.
All pool users are required to sign the COVID-19 waiver. Details to follow.
Lap Swimming Specific Rules
Use of the pool will require an advanced reservation. Members may make 1 reservation per day. Each lap swim reservation will be 45 minutes maximum.
One person per lane (two individuals from the same household may share a lane)
Please arrive no more than 10 minutes prior to your reservation and leave once reservation time is complete.
No SRD equipment will be available for use. Please bring your own cleaned, kickboard, buoy, goggles, water belt.
Ages 16 and up for lap swim only
Recreation/Family Specific Rules
Families can reserve a designated section of the pool for use up to 1 hour and 15 minutes.
No crossing over to other sections of the pool/s.
No floatation devices
Parent/s must be in the water with any child 7 years or under. Children over 7 may be asked to take a water safety test before swimming without a parent in the water. Lifejackets will be available for use.
Diving board is CLOSED
Toy bin and goggles are not available for use.
Tables closed.