Events
2023 UPCOMING EVENTS
Halloween Scary at the Berry
Friday, October 27
Wear your favorite costume
Bring your treat bag
Work up an appetite trick-or-treating around Strawberry Rec Center
Come see the Scary Barnyard, Harry Potter, Aliens, Ghostbusters, Disney Princesses, Toy Story, The Spectacular Glow-In-The-Dark Tunnel, and more.

..
After gathering your candy, stop by our Food Trucks for dinner with family and friends
$5/trick-or-treater 2 years and over
Under 2 yrs & parents/caregivers/guardians free
Trick-Or-Treat 5 pm – 7:30 pm
Food Trucks 5 pm – 8 pm
Treats: Lots of Candy!!
POOLSIDE JAMS
 
SRD COMMUNITY NIGHT
YOU ARE INVITED – FREE TO ATTEND!
TO THE BIGGEST AND BEST
STRAWBERRY COMMUNITY NIGHT!
THE WHOLE COMMUNITY IS INVITED TO JOIN IN THE FUN
TUESDAY
AUGUST 22, 2023
4:30PM – 8:00PM

SRD HALLOWEEN TRICK OR TREAT – FRIDAY, OCTOBER 27
SRD PROGRAM OPEN HOUSE – TUESDAY, DECEMBER 5
2022 Flyer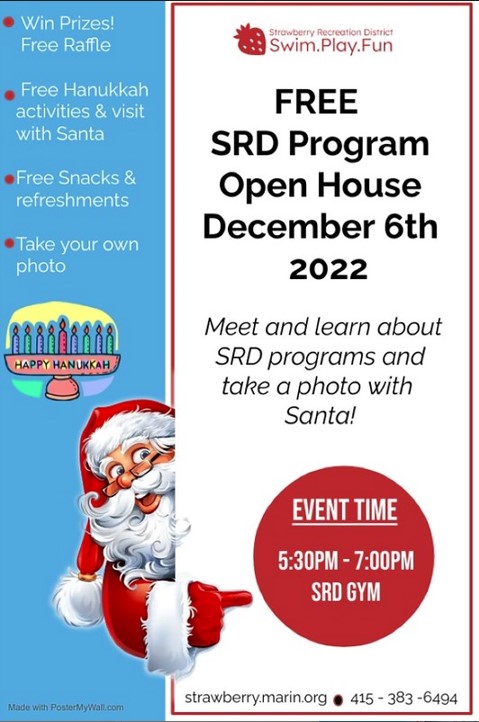 PAST EVENTS
HALLOWEEN TRICK OR TREAT – GLOW IN THE DARK TUNNEL

2022 STRAWBERRY COMMUNITY NIGHT

Event Sponsored by
Joan Kermath, Compass
Your Strawberry Neighborhood Realtor
SPECIAL GUESTS
Supervisor Moulton-Peters
FOOD VENDORS
Adobos N More – Copper Top Ovens – Infusion Craft Street Food – Forrest Fire BBQ – Nothing Bundt Cakes
BEER TASTING
Otherwise Brewing – Bella Snow Brewing
ATTRACTIONS
5150 Foundation Vintage Cars – Southern Marin Fire Department – Marin County Sheriff – Wine Country Photo Booth
YOUTH ACTIVITIES
Portuguese Futbol Academy Soccer – Legends Speed Radar Pitching – Amazing Athletes Toddler Games – Rock Climbing Wall – Face Painting 
INFORMATION BOOTHS
StretchLab – Mill Valley Refuse – NRG Energy – Marin Water – Mt. Tam Pediatric Dentistry – Marin CASA – Strawberry Point School PTA
PROGRAM PARTNERS
Awesome Kids Yoga – North Bay Basketball – Miss Hale's Art Club – 23 Elephants – Strawberry Seals – Tinker Tech – National Academy of Athletics – Bridge Card Program – Sparks of Marin – Option Consulting
MERCHANDISE VENDORS
East & West Leather – Leah Steinberg Photos & Postcards
INTERESTED IN HAVING YOUR OWN BOOTH? CONTACT JUSTIN,  programs@strawberryrec.org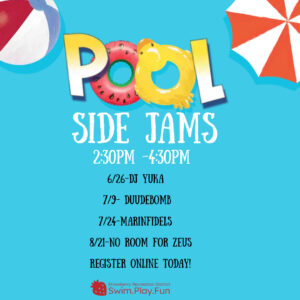 Strawberry Recreation District presents POOLSIDE JAMS!
Swimming pool splashes with warm summer breezes! Come get in the groove to some LIVE TUNES! Join us this summer for our POOLSIDE JAMS!
Welcome to bring your own food and refreshments. NO GLASS BOTTLES OR GLASSES ALLOWED. 
$10.00 GENERAL ADMISSION   
Tickets are on sale NOW! For tickets, please CLICK HERE
____________________________________________________________
Past Events
Thanks to all who helped make our first annual Community Night an amazing success.
2021 Participants:

Great Bands, Great Music, Great Food, Great Fun – Join Us!

2021 Food Vendors
Booths and Fun
Nugget Market – Southern Marin Fire District  – Marin County Sheriff – Supervisor Stephanie Moulton-Peters –  MMWD –  PG&E –  Mill Valley Refuse – 5150 Foundation Classic Cars – Gridiron Football Throwing Contests – Portuguese Soccer – Legends Baseball Camp Radar Gun – HRT Academia – 23 Elephants – Children 4 Change – Firebolts Volleyball – Marin Pickleball League – Matt Holt & Keith Pollak Tennis Professionals – TPLL – Strawberry Seals – Daria Winter Jewelry – Drew Dowsett Winery – Kids Dance Brigade – Kids Yoga – Free Photo Booth – Artists & More
PAST EVENTS:
HALLOWEEN DRIVE THRU TRICK-OR-TREAT
OCTOBER 29, 2020  –  SRD PARKING LOT – 3-5 PM

Spring Faire
Saturday, April 20, 2019
10:30 AM – 12:00 PM
SRD Gymnasium
Fee: $9.00 per child (Adults Free with Child Admission)
Bounce, hop and jump into the season with SRD's annual Spring Faire. Play carnival games, get your face painted, ride the train and bounce in the jump house.
Don't forget your baskets and follow the bunny to the egg hunt.
This event will go on rain or shine.
Strawberry Festival
Sunday, June 2, 2019
11:30 AM – 4:00 PM
Fees: FREE (Some activites will have additional fees)
Join SRD in building a better community environment through our local parks and recreation. Enjoy local musicians, food vendors, carnival games, family races and more. Come play with the little fuzzy friends in the petting zoo, bounce in the jump house, climb the rock wall and enjoy a swim at the SRD pool!
Family Game Night
Saturday, October 5, 2019
4:30 – 7:30 PM
Donation: $10.00 PER PERSON
$25.00 A FAMILY (3 OR MORE FAMILY MEMBERS)
Join SRD for an evening of old-fashioned, family fun and games. This electronic free event will feature Game Academy's improv, interactive story activities. Game Academy activities give children the opportunity to create a persona for a character and participate in interactive story telling with a group of other characters.
Additional activities include Bingo, Charades, Pictionary, Taboo, Trivia table, Scattergories, Apples to Apples, a prize wheel and more. All games are designed for many players at one time. Jump house, face painting and a raffle available. Raffle prizes include one week of Camp Strawberry, 4 SRD private lessons and more.
Come for the games and even stay for dinner. Food will feature Sourdough Story Pizza, desserts, popcorn and beverages.
Halloween Faire
Sunday, October 27, 2019
11:00 AM – 12:30  PM
Fee: $9.00 per child (Adults Free with Child Admission)
Come in costume to celebrate All-Hallows-Eve with wizards, witches, fairies, astronauts and cartoon characters. Play carnival games, explore the Happy Halloween House or bounce in the jump house. Enjoy face painting, candy and prize hunt and a Magician!