Adult Fitness Classes
Group Exercise Classes – In Session 
     New at the Pool –  Buy The Day Program
Floating Platform Fitness Board Class 
$15 – Residents & $16 – Non-Residents
Friday @ noon with Leigh or LouAnne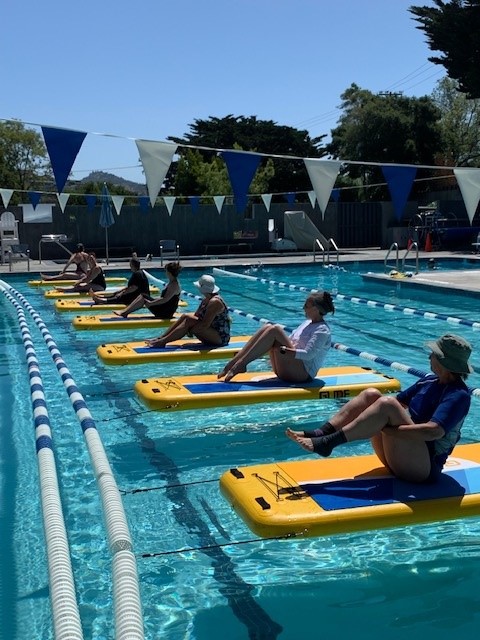 Come try Strawberry Recreation's newest workout ON FLOATING BOARDS IN THE POOL!! Cardio, Core and Tone; Finish with a Yoga cool down. Enjoy learning while adapting to the motion of the board. The continuous challenge to balance, the instant instability created by minor energy and weight shifts, require you to ground while afloat. Change is the only constant in life. You will need clothes that can get wet (swimsuits are great! You can add a rash guard and some swim leggings as well).   Register for Pool Platform Board classes here: Register
In the Gym – Scan Card Membership Classes: 
Strawberry Residents:                 Non-Residents:
10 Passes – $125                                           10 Passes – $135
20 Passes – $200                                         20 Passes – $220
Drop-In – $15
Cardio Dance & Movement with Nancy: Tuesday 8:30 am & Friday 8:00 am
Dance movement for all ages. Exercise to a lively beat with an entire body and cardio workout.
Cardio Movement with Sculpt with Megan: Monday and Wednesday 8:30 am
No matter what your fitness level, body size or shape, conditioning, or ever exercised in your life this class will help you become more fit, toned strong and confident to do whatever you want. Learning specific alignment principles starting with your feet; turning muscles on and utilizing them to their fullest potential and conditioning. Flexibility coordination, endurance, and balance.   Using props, such as blocks, straps, fit balls, resistant bands to help train specific muscles to activate for greater support, conditioning, endurance, and functioning.
Megan Scott Ph.D.  Sports rehab specialist, postural alignment, and pain management
Dance & Movement with Moana: Tuesdays 5:30 PM
Class on break beginning September 1. Check back for new schedule beginning in October.
Dance and sculpt movement to elevate your cardio and enhance balance.
Yoga with Megan: Wednesday 6:00 pm 
Yoga for Mind, Body Self, wholeness, and wellness for all aspects of your Self.
Learn groundbreaking techniques to evolve your experience in a wide range of asana (poses) and traditions of the yoga practice, while deepening your knowledge around the mechanics of your magnificent body.  Create space between your vertebras, enhance joint mechanics, strengthen bones and muscles, increase range of motion, flexibility and improve posture.  In a relaxed, fun, inspired and loving environment.  All levels welcomed, modifications offered to those recovering from injury or body mechanics special needs, advanced movements suggested for those who want a more challenging practice.
All Level Yoga with Megan: Sunday 10:00 am
This all level yoga class based on the Yoga principles of alignment and body intelligence conditioning. Learn Techniques that open your body to new potential, training, and conditioning for asanas such as backbends, headstands, hand stands single arm balancing and more. Using props, and support tools for assistance into these intermediate and advanced poses.
Come and enjoy the delight of experiencing something bigger, something greater and something more in your everyday experience. Having prior yoga experience or an athletic background for this class is helpful.  This class is open for anyone who wants to improve their ability to enjoy yoga and body conditioning at another level.
Cardio Core with Karen: Saturdays 9 am
Class begins Saturday, October 9: A High energy, low impact, easy and fun class, with cardio dance moves to get you going.  Also core and balance, strength with free weights, abs and stretch for a wonderfully well rounded workout.  Best way to start your day!
Purchase Scan Card Membership Here